GEN-3 Heated Blades Wipers - COMPLETE KIT
Regular price

Sale price

$194.95

Unit price

per
Our FULL SET (2 blades) comes with one (1) Module, one (1) Harness, and one (2) NA1 Adapter, which works Large and Small J Hooks. If your vehicle needs a different Adapter please Contact Us.
Share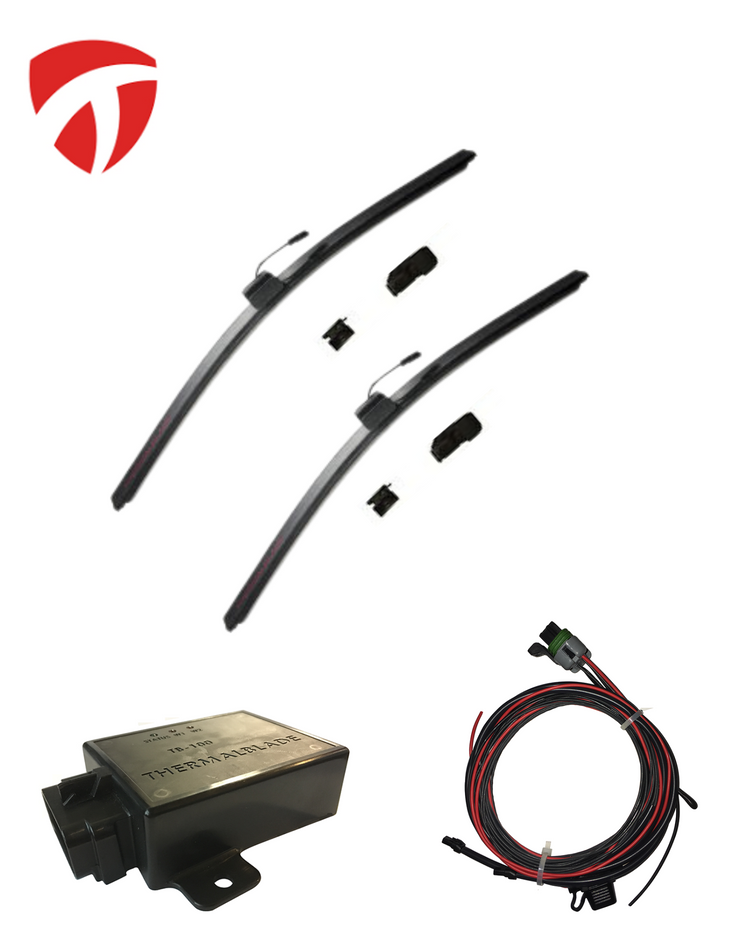 Included Items
Heated Silicon Blade

Control Module

Harness
The ThermalBlade Difference
Features

Easily replaceable heated squeegee module

Automatically heats in freezing conditions

Microprocessor controlled

Long-lasting silicone squeegeeIncreased visibility for safety

Easy Plug-&-Play Installation

Stays pliable and conforms to the windshield when heatedIncreased safety and reduced stress for drivers

Draws from 1.52 to 2.83 amps per blade

Benefits

All season Performance
Cost & Time Savings
Auto Activated Heating Element
Reduces annoying chattering
Activated Silicone-Coating Action
Increases Productivity
Eliminates ice & snow Build Up
World's Best Heated Wipers
Introducing Generation 3 of our revolutionary ThermalBlade heated windshield wiper. The coils inside the squeegee heat the wiper and prevent the accumulation of dangerous and inconvenient ice on your windshield.
The GEN-3 heated squeegee is replaceable with an unheated module for summer use.

The GEN-3 blade will be sold as a set of two blades which will come with our patented Electronic Control Module (ECM), which will determine when to turn on the heat and how much heat to apply. The ECM is mounted under the hood of the vehicle, truck or equipment, and can be wired directly to the battery. two wires will go to each of the blades, and 2 wires will be routed to the front of the vehicle and mounted right behind the grill for reading the outside temperature.
The Heated ThermalBlade Kit includes all tools necessary for installation, as well as an intuitive and easy-to-use instruction manual.
The Smart Wiper Technology makes troubleshooting easy for everyone and works on both the 12-volt and 24-volt systems.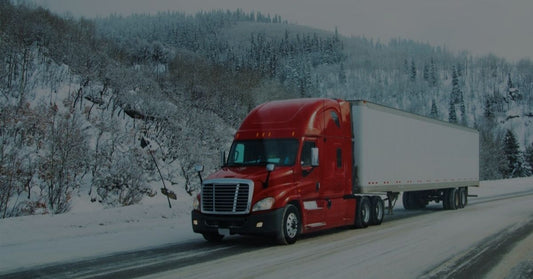 Need to Equip your Vehicule Fleet?
Get a custom quote today to save on your high-quality heated wipers today!
Get a quote
1) Adapter - Molded Hard Plastic Clip adapter attaches the THERMALBLADE 1to the wiper arm. Various adapters are available to fit many different wiper arm styles.

2) Rubber Cover Boot - Top cover layer of the wiper that is exposed to the elements. Made of durable high quality rubber compound. This boot has an aerodynamic spoiler which helps utilize wind velocity to reduce lift.

3) Metal Frame Attachment - Interlocks the frame rib and the cover boot together 3 and attaches to the wiper arm clip adapter. Made of high quality light weight metals for over all strength and performance.

4) Plastic Rib frame - Ribbed construction allows the wiper to bend and form to the 4 curves of the windshield. The Rib Frame is also what holds the plastic slide rail for the squeegee. Made of high quality plastics for durability.

5) Plastic Slide Rail - Removable & replaceable part of the wiper frame which holds 5 the squeegee in place. No hinge construction allows the squeegee to "sweep" back and forth while wiping.

6) Silicone Squeegee - Made of a silicone compound for lengthened durability and a clear smooth wipe. The silicone compound extends the life of the wiper 2-3 times longer than rubber & produces active silicone coating action while rubbing against the windshield while wiping.

7) Thermostat is installed inline along the wiring harness and is mounted under the wiper arm on the outside of the vehicle. Once the Thermostat detects temperatures below 38 degrees F or 4 degrees C the thermostat draws power from switched power source and activates the heating element.

8) Heating element is encased in a silicone casing for added durability and extended life. this encased element sits within the squeegee itself and is no more than 1/8 of an inch from the windshields surface during the wiping action.

9) Wiring harness has 8 feet of 22 gauge black ground wire and 10 feet of 22 gauge red power wire.
During installation if more wire is needed crimp 1 butt connector per wire with 22 gauge extension wire.
22 gauge wire used = (7 strands of 30 gauge wire)
Download Spec Sheet
Dowload here